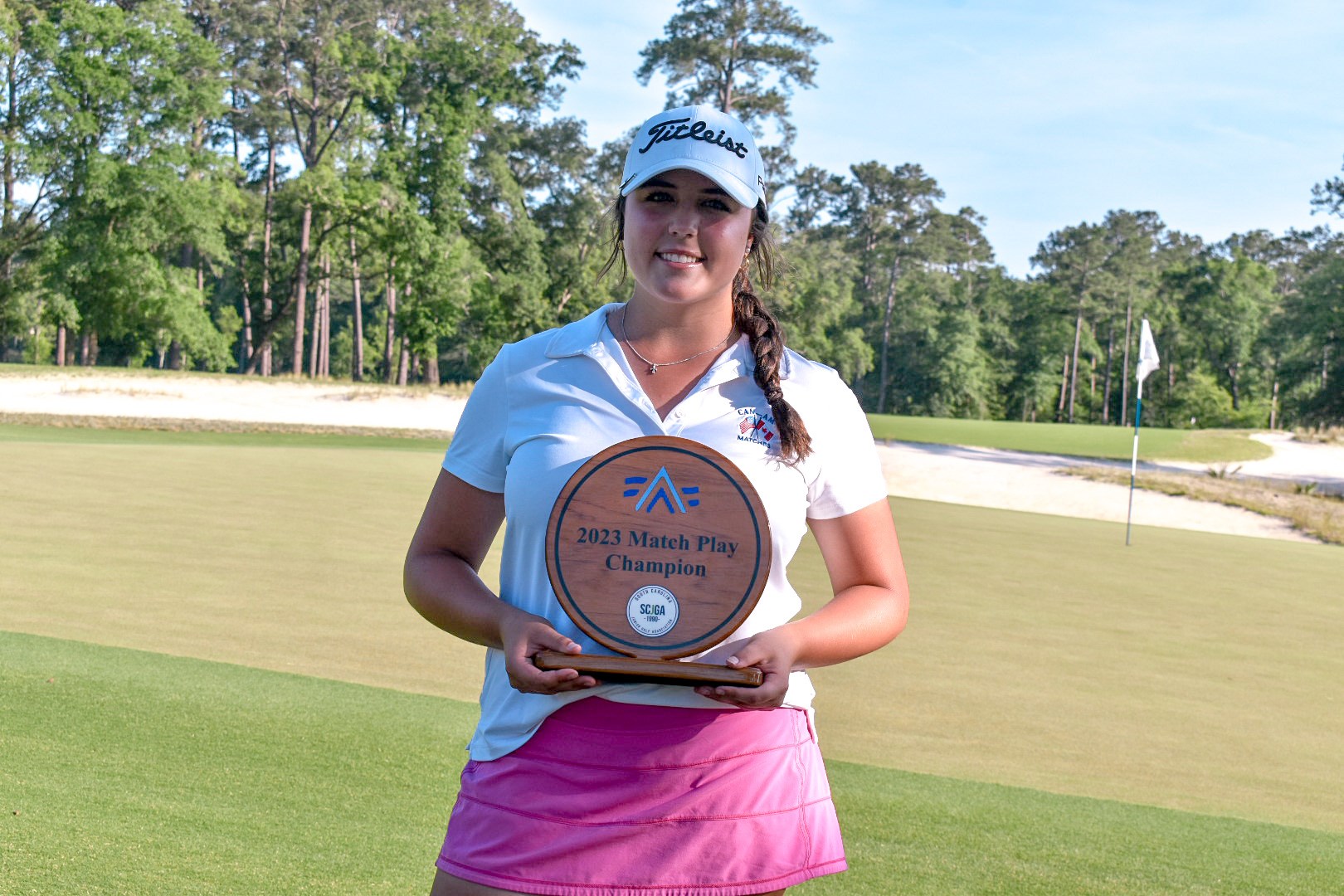 RIDGELAND, SC (May 24, 2023) – SCJGA Match Play results hosted by Congaree Golf Club on Wednesday, May 24, 2023.
Championship Links: Girls Match Bracket | Boys Match Bracket | Championship Website | Congaree Foundation
This morning, 4 girls went head-to-head in the girls semifinals with two girls advancing to this afternoons final round.
(4) Bridget Wilkie, Bluffton, SC, def. (1) Ella Stalvey, Blythewood, SC, 1 up after 19 holes
(2) Caroline Hawkins, Columbia, SC def. (11) Maddie Peake, Pauline, SC, 2 and 1
After a back-and-forth battle, both players were tied after regulation (18 holes). Caroline Hawkins made birdie on the 19th hole to claim the Inaugural SCJGA Match Play Girls division title.
In the boys division, 8 boys went head-to-head this morning in the quarterfinals with four players advancing to the semifinals.
In the afternoon semifinals, four boys battled for a spot in tomorrow's championship round. Rowan Sullivan of Charleston and Gabe Schmitz of Okatie came out victorious in their matches to advance to the final round.
(29) Gabe Schmitz, Okatie, SC, def. (17) Lucas Acevedo, Charleston, SC, 4 and 3
(6) Rowan Sullivan, Charleston, SC, def. (15) Major Lenning, Simpsonville, SC, 2 up
The boys championship round of the Inaugural SCJGA Match Play begins tomorrow at 8:00 AM off #1.
Congaree Mission
Congaree Foundation has a mission to positively impact the lives of young people locally and around the globe by providing educational and vocational opportunities through the game of golf.
Sergeant Jasper Golf Club
Acquired by Congaree Foundation in 2021, the historic Sergeant Jasper Golf Club quickly captured headlines across the sport and has drawn support from PGA TOUR stars who want to help #RechargeTheSarge.
Sergeant Jasper will support access to the game of golf by providing a new home to area high school teams and a quality public course for local golfers. In the past, the lack of available facilities has been a roadblock for area schools looking to establish their own golf programs. With access to the club provided to these teams at no cost, competitive high school golf can expand and flourish in the Lowcountry.
About the South Carolina Junior Golf Association
The purpose of the South Carolina Junior Golf Association is to continue the history and traditions of the ancient game of golf through its members and an active outreach to the youth of our state. Established in 1990 by community leaders with a love for the game and a commitment to passing on golf's heritage to the youth of South Carolina, the SCJGA is committed to meeting the needs of all young people in the state and providing playing opportunities to boys and girls that might not otherwise have the chance to experience golf and its many benefits. Through affordable opportunities of play, instruction and competition, juniors of all ages, walks of life and skill levels will be touched by the character of the game. It helps to teach them honor, sportsmanship and respect and makes them better prepared to face the challenges ahead in life.
For more information about the South Carolina Junior Golf Association, visit www.scjga.org