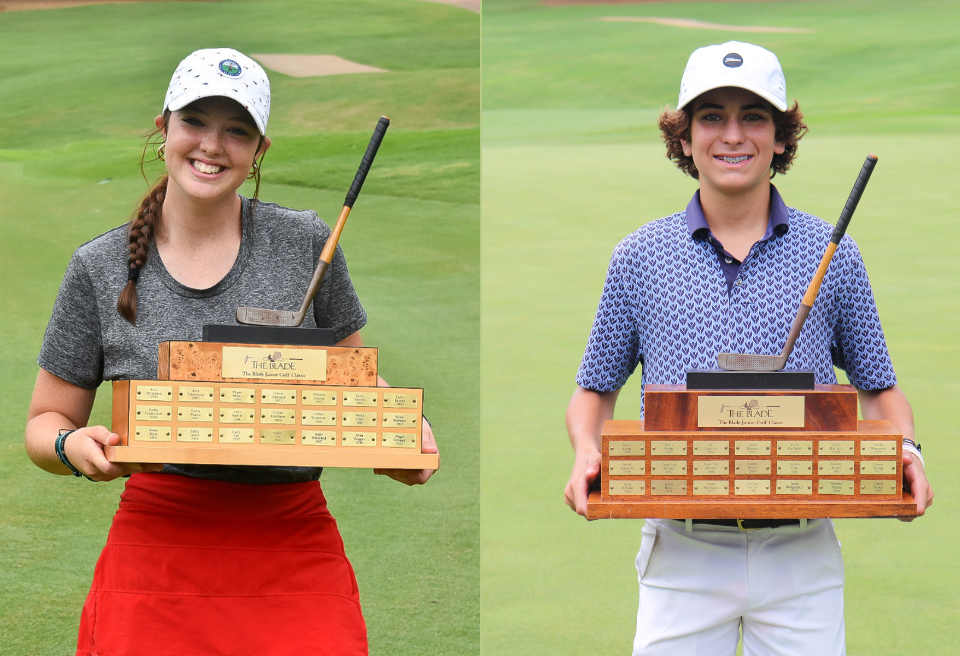 GREER, SC (July 20, 2023) – Final round results of the 25th Annual Blade Junior Classic hosted by Thornblade Club in Greer, SC, on Thursday, July 20, 2023.
Championship Links: Final Scores & Results | SCJGA Championship Website | The Blade Website | Photo Gallery
In the boys 13-18 division, Dawson Szabo of Greer finished the day with an overall score of even-par 213 to take home the 25th Annual Blade Junior Classic title in the boys division.
"Today was tough," Szabo said. "But the course is honestly just pure. It feels great to be the champion. I've been chasing this one for a while after coming in second when I was younger and missing the cut last year. So, it feels good to come back and finally get it done."
Jack Crousore of Bluffton was named runner-up, finishing the tournament with an overall score of one-over par 214.
In the girls 13-18 division, Olivia Pellerin of Greenville posted a final round score of eight-over par 79 to claim the 25th Blade Junior Classic Girls Champion title. She finished the tournament with an overall score of 18-over par 231, taking home her first SCJGA victory.
"Things honestly started out a little rough for me today," Pellerin said. "But I made a par on #8 which is not my favorite hole and that kind of helped set things in motion for the rest of my round. It's super exciting to be the champion. It was my goal to win this year because this is my last one so, this is a great feeling."
Grace Lindsey of Mt. Pleasant was named runner-up in the girls division, posting a final overall score of 19-over par 232 and a final round score of nine-over par 80.
About The Blade Junior Classic
In 1999, The Blade Junior Golf Classic was founded by a group of Thornblade Club members with a passion for creating the best junior golf tournament experience for junior golfers and their families. After 20 plus years, a dedicated board of directors and a team of generous sponsors, The Blade has developed into one of the most premiere tournaments in junior golf. Since its inception, The Blade has sought to provide support for local charities, having donated nearly $1.5 million to charities in South Carolina.
Through a continued effort to support junior golf, The Blade began supporting the Dick and Lucille Hendley Scholarship Fund in 2021. Through partnering with the Hendley family, one male and female Blade participant who exemplifies great character, a passion for community service and a desire to excel in the classroom will be eligible to receive scholarship assistance.
Prior to the 54-hole stroke play tournament, a Junior-Am tournament is held for sponsors of The Blade to raise funds for local children's charities. The Junior-Am tournament is set to take place Monday, July 17, 2023.
About the South Carolina Junior Golf Association
The purpose of the South Carolina Junior Golf Association is to continue the history and traditions of the ancient game of golf through its members and an active outreach to the youth of our state. Established in 1990 by community leaders with a love for the game and a commitment to passing on golf's heritage to the youth of South Carolina, the SCJGA is committed to meeting the needs of all young people in the state and providing playing opportunities to boys and girls that might not otherwise have the chance to experience golf and its many benefits. Through affordable opportunities of play, instruction and competition, juniors of all ages, walks of life and skill levels will be touched by the character of the game. It helps to teach them honor, sportsmanship and respect and makes them better prepared to face the challenges ahead in life.
For more information about the South Carolina Junior Golf Association, visit www.scjga.org