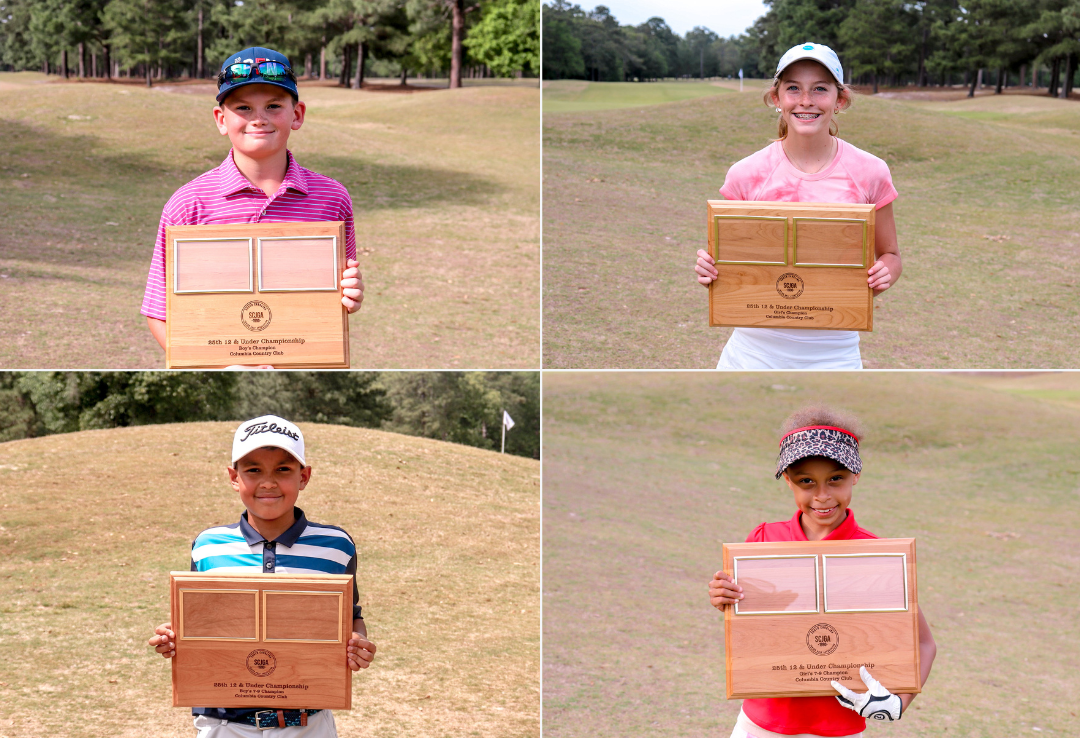 BLYTHEWOOD, SC (May 7, 2023) – Fifty-seven juniors arrived at Columbia Country Club on Sunday for the 25th Annual SCJGA 12 & Under Championship. Birdies were plentiful in the warm, sunny conditions as five players finished their tournament with a score of even-par 72 or better.
Championship Links: Final Results (Boys 10-12) | Final Results (Girls 10-12) | Final Results (Boys 7-9) | Final Results (Girls 7-9)
The boys 10-12 division was taken by Cullen Beck (Greenville) in a playoff over fellow Greenville native Heyward Jennings. Beck carded six birdies on the day against four bogeys en route to an 18-hole total of two-under par 70.
Both Beck and Jennings birdied the first playoff hole and then missed makeable birdie attempts on the second. Beck broke through on the third playoff hole making a thirty-foot birdie to clinch the Championship. This marks Beck's 2nd SCJGA major championship.
AC Peake (Pauline) continued her strong play and claimed the girls 10-12 division by a five-stroke margin of victory. Peake posted an 18-hole score of even par 72 to finish ahead of the rest of the field. Peake has now won three SCJGA major championships.
Arley Jennings (Spartanburg) brought home runner-up honors with a score of 77.
Bluffton's JJ Johnson Jr. blew away the field to win the boys 7-9 division. Johnson Jr. set a new scoring record in the process to take the title by eleven strokes at three-under par 69.
Ethan Zimmer (Greer) played a solid round to take second place at eight-over par 80.
Chloe Crosby (Simpsonville) emerged victorious in the girls 7-9 age bracket. Crosby played a near flawless second nine to win the championship for a second straight year, finishing the tournament at 5-over par 77.
Runner-up honors would go to Bailee Chanthaphaeng (Fort Mill), who finished the tournament at 19-over par (91)
The SCJGA would like to extend a special thanks to Columbia Country Club for hosting the 25th Annual 12 & Under Championship and for their commitment to junior golf in the state of SC!
About the South Carolina Junior Golf Association
The purpose of the South Carolina Junior Golf Association is to continue the history and traditions of the ancient game of golf through its members and an active outreach to the youth of our state. Established in 1990 by community leaders with a love for the game and a commitment to passing on golf's heritage to the youth of South Carolina, the SCJGA is committed to meeting the needs of all young people in the state and providing playing opportunities to boys and girls that might not otherwise have the chance to experience golf and its many benefits. Through affordable opportunities of play, instruction and competition, juniors of all ages, walks of life and skill levels will be touched by the character of the game. It helps to teach them honor, sportsmanship and respect and makes them better prepared to face the challenges ahead in life.
For more information about the South Carolina Junior Golf Association, visit www.scjga.org.