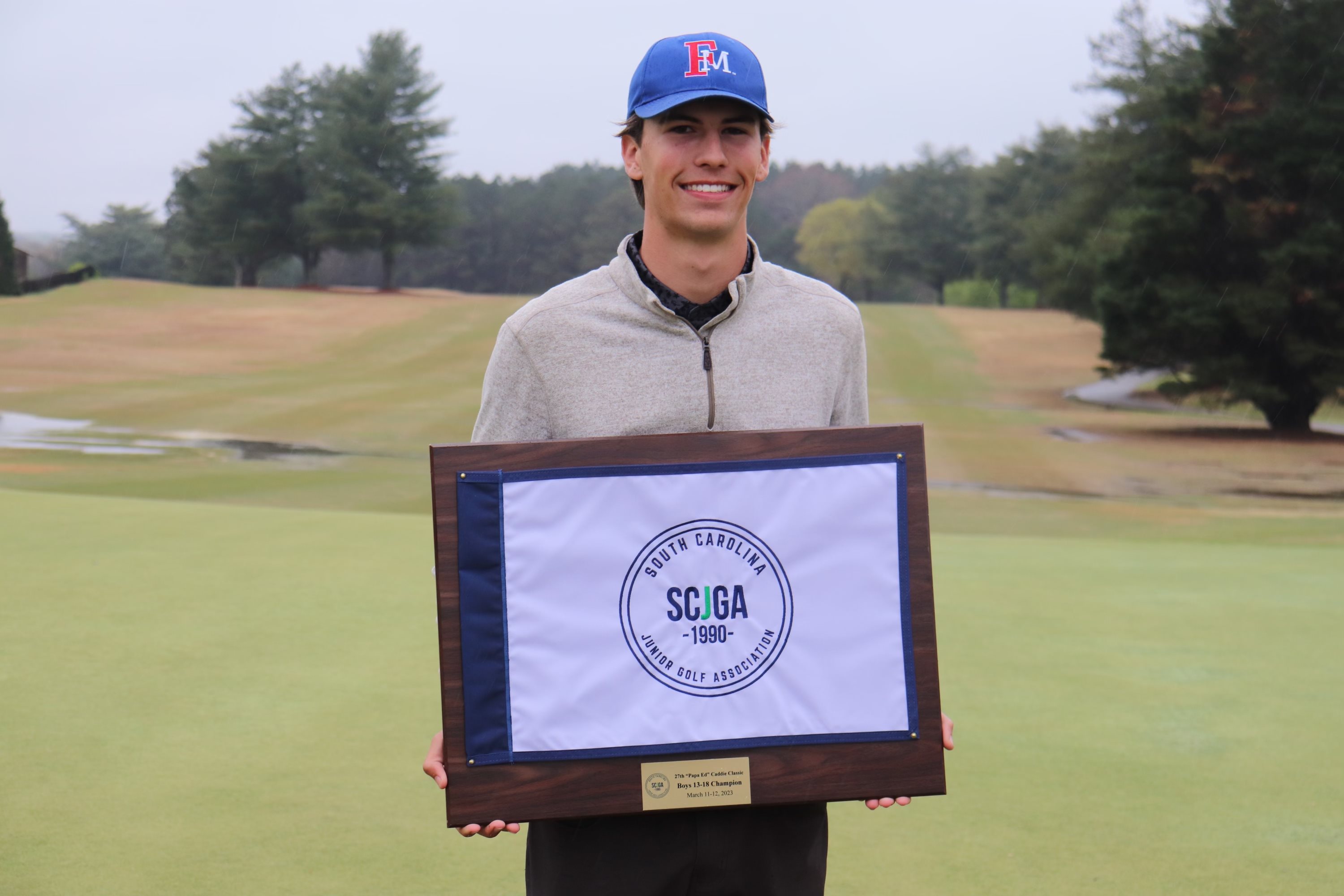 FOUNTAIN INN, SC (March 12, 2023) – Unplayable conditions due to heavy rainfall early on Sunday morning forced the cancellation of the final round of the 27th "Papa Ed" Caddie Classic.
Championship Links: Final Results (Boys) | Final Results (Girls)
Ryan Bozard of Charleston claimed the Boys 13-18 division of the Caddie Classic with a round of four-under par 68 on Saturday. The Francis Marion commit held a three-stroke advantage going into Sunday's final round that was ultimately canceled due to inclement weather. This victory is Bozard's third SCJGA championship in the last 13 months, with his other victories coming at the 2022 Fripp Island Junior Challenge and 2022 Thanksgiving Eve One-Day.
John-Michael Jenkins of Charleston and Dylan Park of Easley each earned runner-up honors with rounds of one-under par 71 on Saturday.
Taryn Smoak of Lexington's birdie on Hole #18 on Saturday afternoon turned out to be the difference in the Girls 13-18 championship. Smoak's closing birdie finished off a two-over par 74, which was good enough for a one-stroke victory and her maiden victory on the SCJGA Players Series.
Aiken's Kaylee McElwain carded a round of three-over par 75 on Saturday to garner runner-up honors in the Girls 13-18 contest.
Special thanks to the Carolina Springs GC for hosting the Caddie Classic and to Marilyn Thompson for her sponsorship in honor of "Papa Ed" Thompson!
Ed Thompson always had a special place for children and helping ones in need. For nearly 20 years, his mission was to find out what Greenwood (Indiana) children needed and get it for them. He started the Clothe-A-Child and kept the program going for almost two decades which still goes on today. After his passing in 2016, Marilyn decided to keep his spirit of giving alive with the SCJGA in the form of a sponsorship. In 2017, she donated 30 sets of brand new junior clubs to the Indiana Junior Golf Association. Since 2018, she has donated over 100 brand new Wilson sets to the SCJGA to distribute to aspiring junior golfers in need of clubs. We thank Marilyn and the Connell family for their donations and efforts to grow the game of golf thru compassion while helping a child.
About the South Carolina Junior Golf Association
The purpose of the South Carolina Junior Golf Association is to continue the history and traditions of the ancient game of golf through its members and an active outreach to the youth of our state. Established in 1990 by community leaders with a love for the game and a commitment to passing on golf's heritage to the youth of South Carolina, the SCJGA is committed to meeting the needs of all young people in the state and providing playing opportunities to boys and girls that might not otherwise have the chance to experience golf and its many benefits. Through affordable opportunities of play, instruction and competition, juniors of all ages, walks of life and skill levels will be touched by the character of the game. It helps to teach them honor, sportsmanship and respect and makes them better prepared to face the challenges ahead in life.
For more information about the South Carolina Junior Golf Association, visit www.scjga.org.