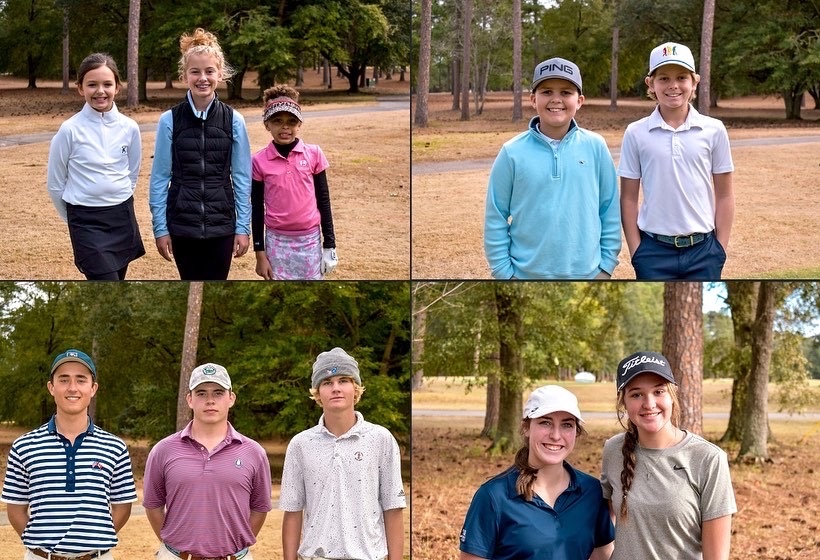 SANTEE, SC (Dec. 30, 2022) – The final SCJGA tournament of the year brought 78 junior golfers to Lake Marion Golf Course in Santee on Friday for the New Year's Eve One Day.
Championship Links: Boys 13-18 Results | Girls 13-18 Results | Boys 12 & Under Results | Girls 12 & Under Results
The boys 13-18 division was sure to be hotly contested, and it came down to the final stretch of holes to determine a champion. Florence's Matthew Parker made two birdies and two eagles in the final five holes to claim his first victory on the Players Series with a round of four-under par 68.
Michael Gavin of Hilton Head Island finished alone in second place at two-under par 70, and Luke Walmet of Mount Pleasant took third place at one-under par 71.
Graniteville's Karsyn Herron carded a round of three-over par 75 to claim the girls 13-18 age bracket.
Gracie Lee of Conway posted eight-over par 80 to be named runner up in this division.
In the boys 12 and under division, Woods Weston of Columbia was crowned champion, finishing the day with a score of two-over par 38.
Trotter Chastain of Pauline finished the day with a score of three-over par 39 to claim second place in this division.
In the girls 12 and under division, Grayson Cox of Aynor carded a score of 15-over par 51 to take the title in this division.
Aviana Hicks of Sumter and Chloe Crosby of Simpsonville each finished the day with a score of 16-over par 52 to tie for second place in the girls 12 and under division.
About the SCJGA Players Series
Players Series events will be included in the Heritage Classic Foundation Rankings. The Players Series is uniquely designed with its own separate rankings system, which will reward players based on end of the year final standings. All Players Series events will be included in the separate rankings, as well as all state-wide SCJGA One-Days such as the President's Day One-Day.
The year-long points race will give all Players Series competitors the opportunity to earn exemptions into the SCJGA's 2023 major championships, excluding the Bobby Chapman Junior Invitational. The top finisher in the boys and girls standings at the end of 2022 will be "fully-exempt" into all SCJGA 2023 major championships. Full exemption earns players the right to compete in high-profile Championships such as the Sea Pines Junior Heritage, the Blade Junior Classic and the Beth Daniel Junior Azalea. Other exemptions into SCJGA majors will also be awarded to players depending on final Players Series Rankings and SCJGA majors exemption availability.
In addition to the year-long points race which rewards long term commitment to the series, immediate rewards will also be given to 2022 Players Series Champions. Champions of each 2022 Players Series event will earn exemptions into all future 2022 Players Series events, as well as exemption status into the 2022 Upstate Junior Classic, 2022 Harvey Brock Orange Jacket Classic and 2022 Fall Challenge.
About the South Carolina Junior Golf Association
The purpose of the South Carolina Junior Golf Association is to continue the history and traditions of the ancient game of golf through its members and an active outreach to the youth of our state. Established in 1990 by community leaders with a love for the game and a commitment to passing on golf's heritage to the youth of South Carolina, the SCJGA is committed to meeting the needs of all young people in the state and providing playing opportunities to boys and girls that might not otherwise have the chance to experience golf and its many benefits. Through affordable opportunities of play, instruction and competition, juniors of all ages, walks of life and skill levels will be touched by the character of the game. It helps to teach them honor, sportsmanship and respect and makes them better prepared to face the challenges ahead in life.
For more information about the South Carolina Junior Golf Association, visit www.scjga.org