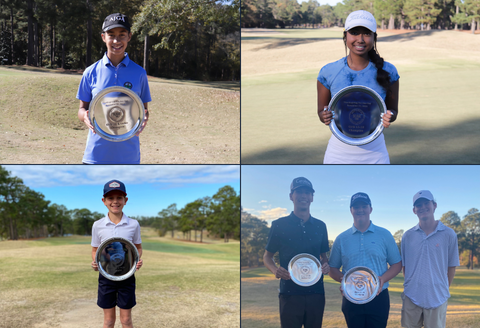 COLUMBIA, S.C.—145 junior golfers arrived at Fort Jackson Golf Club and Columbia Country Club today for the SCJGA's annual Thanksgiving Eve One-Day. All boys competed at Fort Jackson Golf Club's Wildcat Course, and all girls played Columbia Country Club.
Links: Final Results (Boys) | Final Results (Girls)
At Fort Jackson Golf Club, Woods Weston of Columbia captured the boys 12 & under age division with a score of one-under par 35 on the back nine.
Sims Bratton of Florence and Jack Coleman of Aiken each tied for runner-up at two-over par 38 on the day.
The boys 13-18 division was tightly contested from start to finish, and ended in a three-way tie for first place. Sage Bradshaw of Bluffton brought home his second-consecutive Thanksgiving Eve One-Day in a scorecard playoff victory over Ryan Bozard of Charleston and Groves Williams of Greenville. All three competitors carded rounds of two-under par 70 on the tricky Fort Jackson layout.
On the girls 12 & under side at Columbia Country Club, Summer Carey of Manning took home the title with a score of one-over par 37.
Kinley Brazell of Blythewood garnered runner-up honors at five-over par 41.
The girls 13-18 division was captured by Londyn Rath of Spartanburg with a round of five-over par 77.
Karsyn Herron of Graniteville took second place at eight-over par 80.
The SCJGA would like to extend a special thanks to Fort Jackson Golf Club and Columbia Country Club for hosting the Thanksgiving Eve One-Day!
About the South Carolina Junior Golf Association
The purpose of the South Carolina Junior Golf Association is to continue the history and traditions of the ancient game of golf through its members and an active outreach to the youth of our state. Established in 1990 by community leaders with a love for the game and a commitment to passing on golf's heritage to the youth of South Carolina, the SCJGA is committed to meeting the needs of all young people in the state and providing playing opportunities to boys and girls that might not otherwise have the chance to experience golf and its many benefits. Through affordable opportunities of play, instruction and competition, juniors of all ages, walks of life and skill levels will be touched by the character of the game. It helps to teach them honor, sportsmanship and respect and makes them better prepared to face the challenges ahead in life.
For more information about the South Carolina Junior Golf Association, visit www.scjga.org