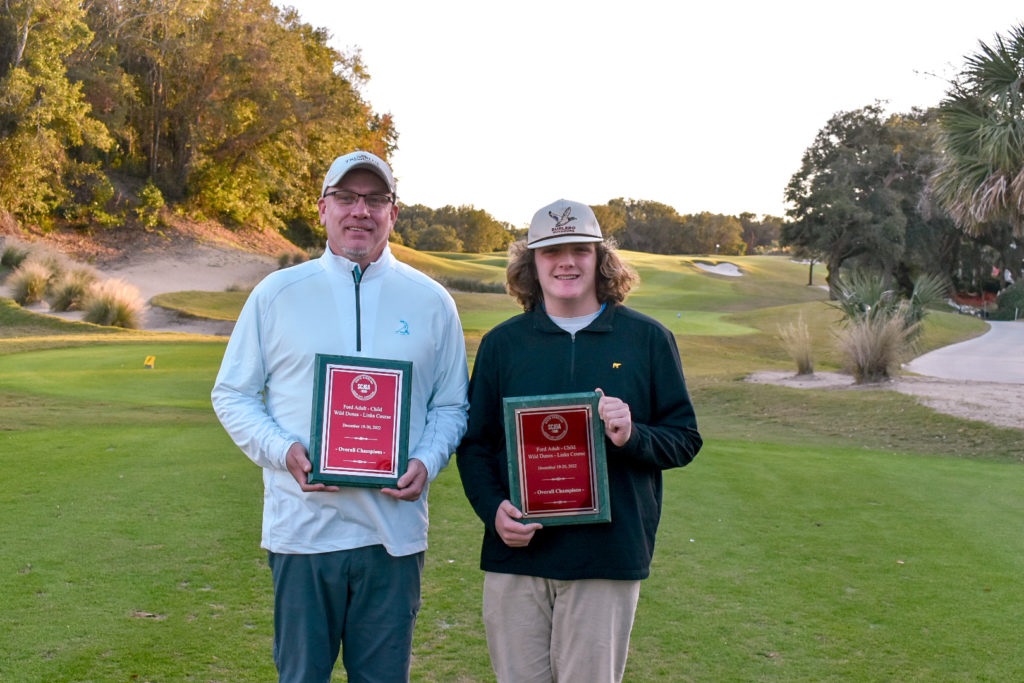 ISLE OF PALMS, SC (Dec. 19, 2022) – Final results of the Ford Picard Christmas Classic Adult/Child hosted by the Links Course at Wild Dunes Resort in Isle of Palms, SC on Monday, December 19, 2022.
Ford Picard Adult / Child Links: Final Scores
Ford Picard Christmas Classic Links: Tuesday Pairings | Tuesday Live Scoring | Photo Gallery
Ryan and Keith Marsden of Myrtle Beach carded nine-under par 61 to be crowned overall champions of the 2022 Ford Picard Christmas Classic Adult/Child. Together the team fired nine birdies and went bogey free to claim the title.
Owen Atkinson / Steve Zimmerman of Columbia finished the day at six-under par 64 to finish first in the second division.
In the third division, JJ Johnson Jr. / William P Robinson of Bluffton posted a score of seven-under par 63 to claim first in this division.
Jack and Billy Early of Florence took the first place title in the fourth division, finishing the day with a score of four-under par 66.
The 29th Annual Ford Picard Christmas Classic finishes on Tuesday with the stroke play portion for the juniors. Tuesday's round will begin at 9:00 A.M. with a shotgun start.
About the South Carolina Junior Golf Association
The purpose of the South Carolina Junior Golf Association is to continue the history and traditions of the ancient game of golf through its members and an active outreach to the youth of our state. Established in 1990 by community leaders with a love for the game and a commitment to passing on golf's heritage to the youth of South Carolina, the SCJGA is committed to meeting the needs of all young people in the state and providing playing opportunities to boys and girls that might not otherwise have the chance to experience golf and its many benefits. Through affordable opportunities of play, instruction and competition, juniors of all ages, walks of life and skill levels will be touched by the character of the game. It helps to teach them honor, sportsmanship and respect and makes them better prepared to face the challenges ahead in life.
For more information about the South Carolina Junior Golf Association, visit www.scjga.org