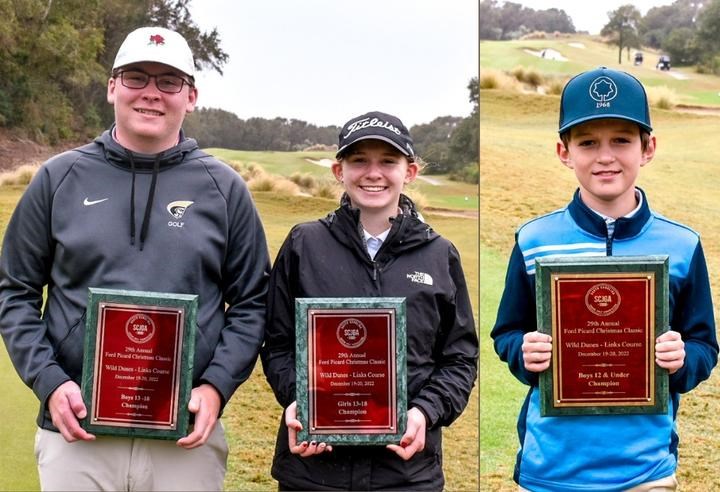 ISLE OF PALMS, SC (Dec. 20, 2022) – Final results of the Ford Picard Christmas Classic hosted by the Links Course at Wild Dunes Resort in Isle of Palms, SC on Tuesday, December 20, 2022.
Ford Picard Christmas Classic Links: Scores | Photo Gallery
Sam McMillan of Mt. Pleasant was the only player to finish the day under par, posting a score of three-under 67 to take the title in the boys 13-18 division.
Luke Walmet of Mt. Pleasant finished runner-up in this division posting even-par 70.
In the girls 13-18 division, Robin Zetrouer of Bluffton carded 12-over par 82 to take the title this division and claim her first SCJGA championship.
Emilyn Davis of Honea Path posted 13-over par 83 to be named runner-up after a scorecard playoff in this division.
In the boys 12 and under division, Pete Revis of Greenville, Zim Atkinson of Columbia and Reid Davis of Charleston each posted five-over par 39 to be forced into a playoff. Revis made par on the fifth playoff hole to be crowned champion of this division.
Davis finished runner-up in the boys 12 and under division after a scorecard playoff.
About the South Carolina Junior Golf Association
The purpose of the South Carolina Junior Golf Association is to continue the history and traditions of the ancient game of golf through its members and an active outreach to the youth of our state. Established in 1990 by community leaders with a love for the game and a commitment to passing on golf's heritage to the youth of South Carolina, the SCJGA is committed to meeting the needs of all young people in the state and providing playing opportunities to boys and girls that might not otherwise have the chance to experience golf and its many benefits. Through affordable opportunities of play, instruction and competition, juniors of all ages, walks of life and skill levels will be touched by the character of the game. It helps to teach them honor, sportsmanship and respect and makes them better prepared to face the challenges ahead in life.
For more information about the South Carolina Junior Golf Association, visit www.scjga.org