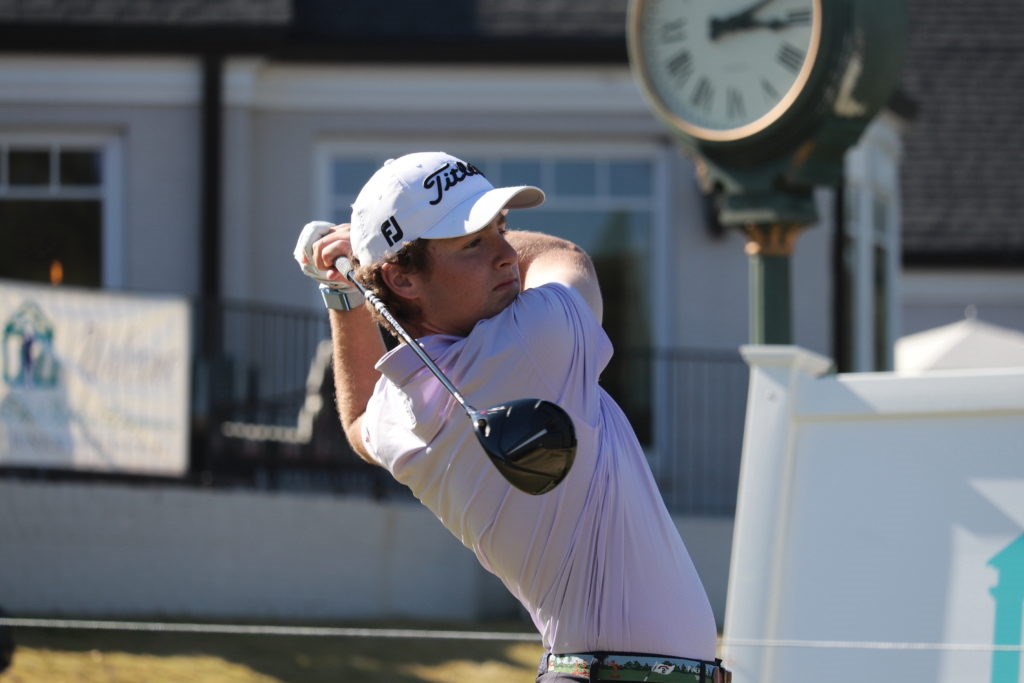 SPARTANBURG, SC (Oct. 22, 2022) – Second round results of the 28th Annual Bobby Chapman Junior Invitational hosted by the Country Club of Spartanburg in Spartanburg, SC on Saturday, October 22, 2022.
Championship Links: Scores & Results | Final Round Tee Times & Pairings | Bobby Chapman Junior Invitational Website | Photo Gallery
Will Hartman of Marvin, NC holds an impressive three-shot lead after round two. He posted one-under par 70 today and stands at 8-under par 134 overall.
"Today was a lot harder on the course than yesterday," said Hartman. "The greens were faster; the pins were tougher, and the course is firming out. I'm going to have to play really well tomorrow. The two people I'm playing with and everyone behind me are all really good golfers so it's going to be tough, but it's going to be a lot of fun."
Kyle Haas of Winston Salem, NC finished the day at five-under par 137 overall to sit solo second. He had five birdies and three bogeys, posting two-under par 69 for round two.
William Jennings of Greenville, SC, sits alone in third at four-under 138 overall.
The final round begins on Sunday, October 23, 2022, at 9:30 A.M. off #1 and #10.
About the Bobby Chapman Junior Invitational
Robert H. (Bobby) Chapman, Jr. dedicated his life to his family, business and to the game of golf. Bobby was a local and national leader in the textile industry. He worked for his family's business, Inman Mills, for over thirty years, where he served as a Director and Vice-Chairman. His genuine, straightforward character earned him the respect of those who knew him.
As a competitor, Bobby Chapman won the Country Club of Spartanburg Men's Golf Championship a record nine times. He won the Carolina's Golf Association Four Ball Championship twice – in 1951 with the legendary P.J. Boatwright, Jr. He twice qualified for the U.S. Men's Amateur Championship and was a member of the Carolinas team in the Carolinas-Virginia Matchplay Competition.
In 1993, a group of CCS members, many of whom continue as Board Members of the Bobby Chapman Junior Invitational today, came together to create a new junior event that would reach national prominence. With the help of the South Carolina Golf Association and the South Carolina Junior Golf Association, the new tournament was held for the first time in 1995.
Since its inception, The Bobby Chapman Junior Invitational has been known for its competitive excellence, as well as its southern hospitality to both players and parents.